If Sunday's Oscars ceremony piqued your interest in the winning films, here's our complete guide to where to find them.
'Everything Everywhere All at Once'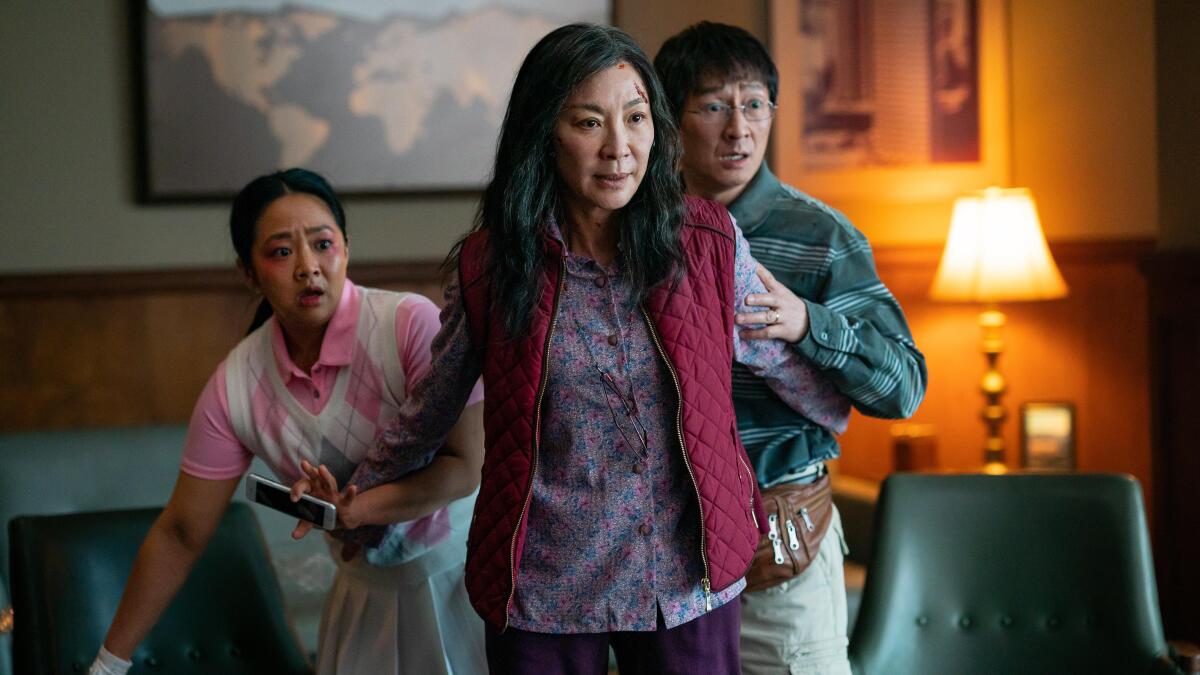 Running time: 2 hours 19 minutes | Rating: R, for some violence, sexual material and language.
Streaming: Paramount+: Included | Showtime: Included |Prime Video: Buy | Apple TV+: Buy
Also in theaters.
Seven Oscars:
At the beginning of "Everything Everywhere All at Once," the camera creeps slowly toward a circular mirror — an apt start for a movie that will soon whoosh its characters through one looking glass after another. Amid all the whooshing, though, try to hold on to the image of that circle, which isn't the easiest thing to do amid all the sights and sounds, frenzied fight scenes and grotesque sight gags that Daniels — a.k.a. the writing-directing duo of Daniel Kwan and Daniel Scheinert ("Swiss Army Man") — have crammed into their latest surreal head-spinner of a movie.
Running a funny, messy, moving, grotesque, sometimes exhilarating and often exasperating 140 minutes, "Everything Everywhere All at Once" can be a pain and knows it; it might also be its own cure. Crammed with ideas, jokes, laments, non sequiturs and some terrific actors you've seen before (if not nearly enough), the movie comes at you like a warm hug wrapped in a kung fu chop: It's both a sweet, sentimental story about a Chinese American family and a wild, maximalist sensory assault. In the end, its many swirling parts unite around a remarkably coherent purpose: to provide a rare and dazzling showcase for a megawatt performer who scowls, gasps, punches, kicks, leaps, flips, soars and finally transcends.
That would be Michelle Yeoh, who has long been one of Asia's top action stars but — from early breakthroughs ("Tomorrow Never Dies," "Crouching Tiger, Hidden Dragon") through prestige disappointments ("Memoirs of a Geisha," "The Lady") to a few high-profile supporting turns ("Crazy Rich Asians," "Shang-Chi and the Legend of the Ten Rings") — has never enjoyed the spectacular Hollywood career she's long deserved. (Even "Everything Everywhere," originally conceived for Jackie Chan before Daniels decided to reconceive the lead as a woman, nearly eluded her as well.) The agony of what might have been haunts Yeoh's stardom, and it also looms over her Evelyn Wang, a stressed-out, desperately unfulfilled woman who's staring down the barrel of the IRS as the action gets underway. (Read more) —Justin Chang
'All Quiet on the Western Front' (Germany)
Running time: 2 hours 28 minutes | Rating: R, for language.
Streaming: Netflix: Included
Four Oscars:
International feature
Music (original score)
Production design
Cinematography
"All Quiet on the Western Front," directed by Edward Berger, is hardly the first movie to argue — quite persuasively — that war is hell. It is, however, the first filmed adaptation of Erich Maria Remarque's seminal World War I novel in which the Germans actually speak German. The book's previous screen incarnations — Lewis Milestone's Oscar-winning 1930 film, Delbert Mann's 1979 telefilm — featured platoons of English-speaking actors cast as men with names like Kropp, Müller and Tjaden, a choice that made for some cognitive dissonance but scarcely mitigated their dramatic power or purpose. And that purpose — to de-glorify the horrors of trench warfare, mock the foolish vanity of nationalism and condemn the futility and cruelty of mass death — is one that should transcend barriers of language and culture anyway.
Even so, this solid, stirring new adaptation, which will represent Germany in the Oscar race for international feature, sets a noteworthy precedent. There's an undeniable power in seeing Remarque's once-serialized novel — an antiwar statement so definitive that it was duly banned by the Nazis a few years after its 1929 publication — brought to the screen in its original tongue. The sight of actual German actors in these roles can only lend authority to Remarque's lament for a generation of men — his generation — who were "destroyed by the war," even as it serves to bolster the movie's horrifyingly visceral realism. (Read more) —Justin Chang
'The Whale'
Running time: 1 hour 57 minutes | Rating: R, for language, some drug use and sexual content.
Streaming: Prime Video: Rent/Buy | Apple TV+: Buy/Rent
Also in theaters.
Two Oscars:
When the camera looks at Brendan Fraser in "The Whale," what does it see? It sees a man named Charlie who weighs 600 pounds and is slowly expiring from congestive heart failure in a drab Idaho apartment. It also sees a familiar Hollywood face attached to a most unfamiliar body, enacting the kind of dramatic, prosthetically enabled transformation the movie industry likes to slobber over.
You might find these two images to be of a piece — an intuitive fusion of performer and role that reaches for, and sometimes achieves, a state of transcendent emotion. Or you may find them grotesquely at odds: the character whose every groan, wheeze and choking fit means to inspire both empathy and revulsion, and the actor whose sweaty dramatic exertions are calculated to elicit praise and applause. (Read more) —Justin Chang
'Avatar: The Way of Water'
Running time: 3 hours 12 minutes | Rating: PG-13, for sequences of strong violence and intense action, partial nudity and some strong language.
Streaming: In wide release, not currently streaming.
One Oscar:
In "Avatar: The Way of Water," director James Cameron pulls you down so deep, and sets you so gently adrift, that at times you don't feel like you're watching a movie so much as floating in one. From time to time he brings you to the bottom of an alien sea, shot with stunning hyper-clarity in high-frame-rate 3-D and teeming with all manner of surreally strange fish — all oddly shaped fins, decorative tentacles and other vestiges of an otherworldly, faintly screw-loose evolutionary timeline.
You can imagine the fun (and the headaches) that Cameron and his visual-effects wizards must have had designing this brilliant ocean-floor nirvana. You can also see an astronomical budget (reportedly north of $350 million) and an extraordinarily sophisticated digital toolkit at work, plus a flair for camera movement that, likely shaped by the director's hours of deep-sea diving, achieves an exhilarating sense of buoyancy.
Much as you might long for Cameron to keep us down there — to give us, in effect, the most expensive and elaborate underwater hangout movie ever made — he can't or won't sustain all this dreamy Jacques Cousteau-on-mushrooms wonderment for three-plus hours. He's James Cameron, after all, and he has a stirringly old-fashioned story to tell, crap dialogue to dispense and, in time, a hell of an action movie to unleash, complete with fiery shipwrecks, deadly arrows and a whale-size, tortoise-skinned creature known as a Tulkun. All in all, it's marvelous to have him back (Cameron, that is, though the Tulkun is also welcome). He remains one of the few Hollywood visionaries who actually merits that much-abused term, and as such, he has more on his mind than just pummeling the audience into submission. (Read more) —Justin Chang
'RRR'
Running time: 3 hours 5 minutes | Rating: PG, for mild rude humor.
Streaming: Netflix+: Included
Also in theaters.
One Oscar:
For movie fans in the know, there is life before "RRR," and there's life after "RRR."
The three-hour-plus, Indian historical action blockbuster set in the 1920s is bursting with flying motorcycles, flaming arrows, brooding bromance and physics-defying heroics. It opened in March to huge anticipation from South Asian U.S. audiences, who made the Telugu-language film the second highest grossing Indian film of all time in America.
With a flair for spectacle to rival the "Fast & Furious" franchise and an MCU (that's mythic cinematic universe) of its own, "RRR" (short for "Rise! Roar! Revolt!") imagines a fictional team-up between two revolutionary folk heroes portrayed by Indian superstars — N.T. Rama Rao Jr. as Komaram Bheem and Ram Charan as Alluri Sitarama Raju — who unite to fight against the British Raj.
Hailing from the South Indian Telugu-language film industry known as Tollywood, distinct from the Hindi-language films of Bollywood, "RRR" boasts breathtaking action sequences and musical numbers including the viral "Naatu Naatu," a catchy Ukraine-shot song-and-dance sequence featuring an anti-colonialist message and fleet-footed moves by Charan and Rama Rao. (Read more) —Jen Yamato
'Top Gun: Maverick'
Running time: 2 hours 10 minutes | Rating: PG-13, for sequences of intense action, and some strong language.
Streaming: Paramount+: Included | MGM+: Included | Prime Video: Rent/Buy | Apple TV+: Buy/Rent
Also in theaters.
One Oscar
"If you think, you're dead." That's one of Tom Cruise's more memorable lines from "Top Gun," a cautionary reminder that when your engine flames out or an enemy pilot locks you in their sights, hesitation means death. Inadvertently, the line also suggests the best way to enjoy Tony Scott's immortal 1986 blockbuster: Best not to think too long or hard about the dumb plot, the threadbare romance, the fetishization of U.S. military might or the de rigueur plausibility issues. The key is to succumb, like Cruise's high-flying Maverick himself, to a world of unchecked instinct and pure sensation, to savor the movie's symphony of screaming jets and booming Giorgio Moroder, not to mention all those lovingly photographed torsos and tighty-whities.
Jets still scream and muscles still gleam in the ridiculous and often ridiculously entertaining "Top Gun: Maverick," though in several respects, the movie evinces — and rewards — an unusual investment of brainpower. I'd go further and say that it offers its own decisive reversal of Maverick's dubious logic: It has plenty on its mind, and it's gloriously alive. (Read more) — Justin Chang
'Women Talking'
Running time: 1 hour 44 minutes | Rating: PG-13, for mature thematic content including sexual assault, bloody images and some strong language.
Streaming: Prime Video: Rent/Buy | Apple TV+: Buy/Rent
Also in theaters.
One Oscar:
Writing (adapted screenplay)
For much of "Women Talking," Sarah Polley's suspenseful and galvanizing fourth feature, we are in the hayloft of a barn overlooking a remote stretch of farmland, with a lonely dirt road winding toward the horizon. The sunlight spilling in through the window seems to beckon to the eight women who have gathered here to think, rage, plan, argue and, yes, talk — about the abuses they've suffered and the impossible decision that awaits them. As the shadows lengthen and the conversation intensifies, the light also seems to fall gently on each speaker in turn, as though illuminating them from above or even within. Whoever might be wielding this light — be it the God they worship or the director behind the camera — these women have their full attention, and also ours.
Skillfully adapted by Polley from the 2018 novel by Miriam Toews, "Women Talking" unfolds in the aftermath of a sustained campaign of sexual violence. Over two years, several Mennonite men have raped more than a hundred women and young girls in their remote colony, drugging them with cattle tranquilizer and then assaulting them in their beds. The rapists, unidentified until recently (a male elder had attributed the attacks to evil spirits), have been jailed in a nearby town; the other men, complicit in spirit if not in deed, have gone to bail them out, leaving the women alone with just 24 hours to determine their response. Should they forgive the men, as their Christian beliefs would seem to demand? Should they respond with their own physical violence or pack their things and leave the colony? (Read more) —Justin Chang
'Guillermo del Toro's Pinocchio'
Running time: 1 hours 56 minute | Rating: PG, for dark thematic material, violence, peril, some rude humor and brief smoking.
Streaming: Netflix: Included
One Oscar:
Every "Pinocchio" is some wonder-struck filmmaker's hope that their carved, sculpted and painted version of Italian author Carlo Collodi's 140-year-old story about a manufactured boy will be accepted as a real movie someday. (Roberto Benigni and Disney have each tried twice.) Are we surprised, then, that Oscar winner Guillermo del Toro — the closest thing genre cinema has to a Geppetto, considering the painstaking care of his imagined worlds — had his own in the works for more than a decade?
And is it any wonder that the choice of stop-motion for "Guillermo del Toro's Pinocchio" is just the modeling magic this tale needs to feel new-old again? Combining a darker tone closer to Collodi's spirit with a commedia dell'arte sensibility regarding familiar elements and bizarre tangents, Del Toro, his co-screenwriter Patrick McHale and co-director Mark Gustafson — a stop-motion veteran getting his first feature credit — have made more of a Frankenstein-ed fairy tale than some irreverent answer to the Mouse House's 1940 hand-drawn classic. That's a good thing. Sometimes an odd, awkward thing, and at times a naggingly modern thing, but mostly a good thing. (Read more) —Robert Abele
'Navalny'
Running time: 1 hour 38 minutes | Rating: Not rated
Streaming: HBO Max: Included
One Oscar:
The smoking gun moment in the sensationally gripping new documentary "Navalny" is something to see. We are deep in the investigative weeds with Alexei Navalny, the Russian opposition leader, and Christo Grozev, the Bulgarian journalist investigating the August 2020 poisoning that nearly ended Navalny's life. By this point in the film, they've already amassed considerable evidence that the assassination attempt was ordered by the Kremlin, but that still doesn't prepare you for the electrifying sequence in which Navalny starts calling up the men who executed the plot and confronting them, one by one, with what he knows.
The first few men immediately hang up. But then Navalny — showing some of the smarts and daring that helped make him the public face of anti-Putin resistance — tries a different tack with one of them, pretending to be a Kremlin functionary demanding answers as to why the poisoning failed. To the shock of Navalny and his colleagues, the man on the other end steps right into the trap and begins dropping secret after incriminating secret, including the means by which the deadly nerve agent Novichok made its way into Navalny's system.
It's a jaw-dropping moment — even the generally unflappable Grozev covers his face in exhilaration and disbelief — in a documentary that moves with the swiftness and tension of a crackerjack thriller. (Read more) — Justin Chang
'The Elephant Whisperers'
Running time: 40 minutes | Rating: PG, for mild thematic elements.
Streaming: Netflix: Included
One Oscar:
The Indigenous couple of Kartiki Gonsalves' India-set "The Elephant Whisperers" were already generous souls when cameras arrived to capture their work restoring orphaned Asian elephants to full health. Though overedited and overscored, in its depiction of interspecies coexistence it's a heartfelt, if simpler, companion piece to the feature documentary nominee "All That Breathes." (Read more) —Robert Abele
'The Boy, the Mole, the Fox and the Horse'
Running time: 34 minutes | Rating: TV-PG.
Streaming: Apple TV+: Included
One Oscar:
A lot has changed for Charlie Mackesy in the last few years. The British author and artist remembers lying in his bed and imagining the characters from his book "The Boy, the Mole, the Fox and the Horse" moving across the ceiling. He could see the snow falling. He could hear a score in his mind. But he never anticipated he would actually co-write and co-direct a film version of that story. Or that the film would eventually be win for an animated short film Oscar.
Mackesy initially began drawing the thoughtful characters for his friends, sharing the images in a WhatsApp group and later posting them on Instagram. Their musings about hope, fear and kindness resonated strongly, so Mackesy created a narrative for them. The story follows a young boy who becomes lost in the forest. There he befriends a cake-loving mole, a wise horse and a mischievous fox. Together, they traverse the snowy wilderness and find solace in one another's company as they ask questions and offer possible answers. Like the book, the film is filled with wise adages about why it's important to weather the storm with friends by your side, and using vulnerability as a strength. (Read more) —Emily Zemler
'An Irish Goodbye'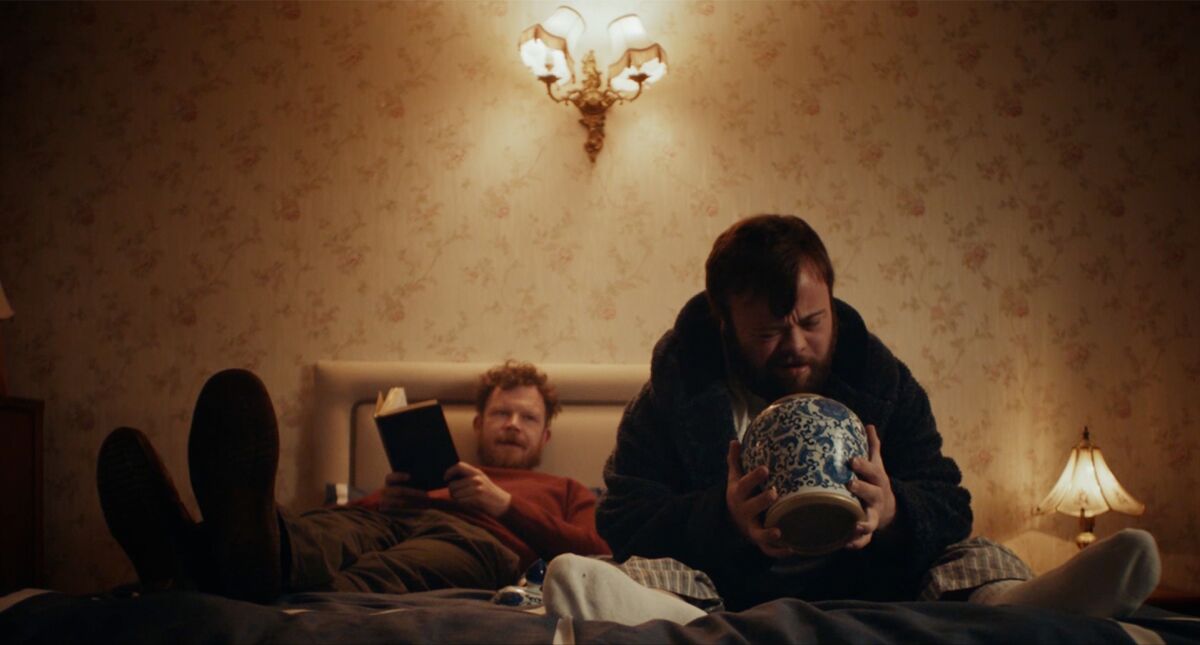 Running time: 23 minutes | Rating: Not rated
Not currently streaming.
One Oscar:
It hasn't escaped "An Irish Goodbye" co-director Ross White that his country's "The Banshees of Inisherin" and "The Quiet Girl" also received Oscar nominations this year, and all three films deal with "characters in a rural Irish location dealing with loneliness, isolation and desperate for connection," he says. "Maybe it is a bit of something that is in the Irish mind at the minute."
"Goodbye" is a character comedy looking at the naturalistic interactions of brothers Turlough (played by Seamus O'Hara) and Lorcan (James Martin, who, like his character has Down syndrome) muddling through their recently deceased mother's surprisingly complex list of last wishes. The two deliver remarkable performances that convey not just fully realized individuals, but a believable fraternal bond and friction. (Read more) —Michael Ordoña